Restorative Holistic Chiropractic
As a graduate of New York Chiropractic College in 1988 & a teacher of Yoga & Meditation since 1975, Dr. Khalsa brings a mindful, centered, compassionate & refreshing holistic approach to healing. His gentle spirit, profound knowledge of health & genuine love for all life supports each person in creating a sphere of health & optimum well being via his hands on healing or through his inspired teaching qualities.
Is not rushed, listens and spends quality time with you?
Is licensed and trained in conventional chiropractic techniques and also experienced in alternative natural healing methods?
Is determined to find ways of healing for you?
Helps you feel greater states of relaxation with every session?
If you answered yes to any of the questions, then Khalsa Healing is for you!
Our vision is to provide the most comprehensive personal care for everyone who comes through our doors. Each individual is treated according to your needs and is supported throughout your entire healing process!
For over 30 years, Dr. Khalsa has given tens of thousands of Chiropractic adjustments to people of all ages and conditions, supporting their journey toward optimum well-being.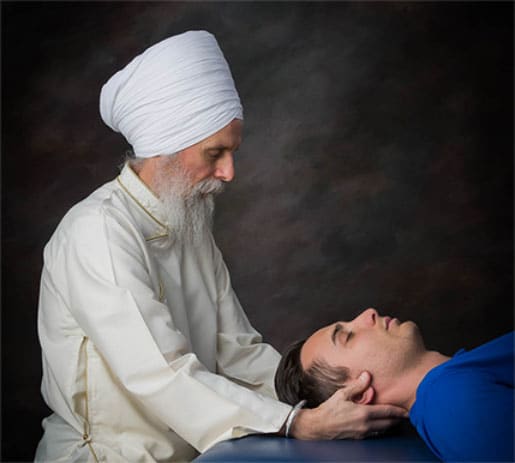 Chronic & Acute Back Conditions
Chronic Fatigue Syndrome
Headaches
Fibromyalgia
Anxiety & Panic Attacks
Insomnia & other stress related disorders
Arthritic Conditions
Allergic Causes
Respiratory, Sinus & Asthmatic Conditions
Intestinal and Digestive Problems
Abdominal Discomfort
Asthma
Allergies
Blood Pressure imbalance
Blood Sugar Imbalance
Cancer
Cramps
Constipation
Cough
Depression
Dizziness
Diabetes
Premenstrual Syndrome
Fatigue
Insomnia
Low Energy
Numbness
Poor appetite
Overweight
Sciatic Pain
Skin Conditions
Spinal Pain
Stress
Ulcers
Whiplash
Our treatments are both gentle, effective and leave you feeling exhilarated, fully relaxed and renewed. We hope you can find everything you need with us and our offerings.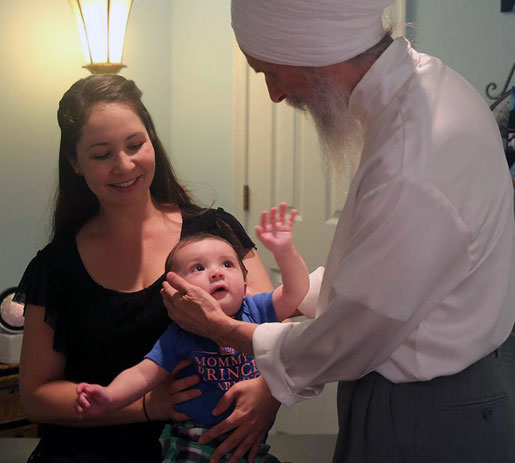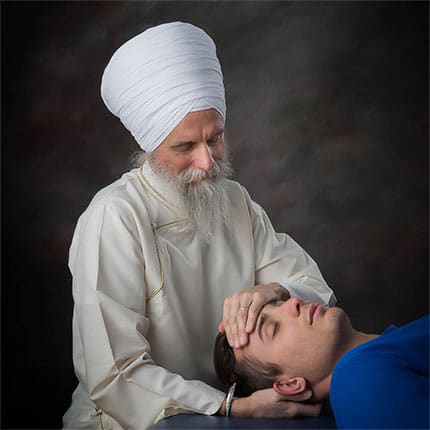 "My son and I have been coming to Khalsa clinic for several years now. We believe in preventative maintenance for our health and overall well being. Dr. Mahan Rishi Singh is a wonderful chiropractor and doctor as well as a holistic care practitioner and healer. We love the nurturing and caring environment at Khalsa Healing Arts!"
"I was terrified of going to a chiropractor to have my "back cracked." What a surprise! Not only was the treatment gentle and relaxing, but my back seemed to adjust without any effort at all. Not only my back, but my whole body feels better!"
"I have been to many doctors before and went many times and didn't really feel much better. After my first session with Dr.Khalsa I felt I was really heard, and when I began implementing the things he suggested, I felt better immediately."
"I never could have endured the recent loss of my daughter without the healing of Doctor and Mrs. Khalsa. Dr. Khalsa is not only a gifted Chiropractor but a gifted healer as well. If you desire wellness and wholeness, just allow these facilitators to do their work. The journey is beyond my greatest expectations. I've never felt so nurtured and cared for."
"When I arrived at Dr. Khalsa's office, I was in extreme pain. I had been going to a doctor for five years and had the opportunity to read brochures in the waiting room on how Temporal Mandibular Joint Pain could be managed. Dr. Khalsa lived up to the accounts of the literature and went far beyond them to initiate my healing. It seems almost a lifetime yet is only two years that I met this physician who could adjust my neck without further hurting my jaw, who helps me release what clenched my jaw in the first place, and who helped me fashion a healthier, happier life."
"We often wondered if we would forever feel the physical and emotional pains of life. The Khalsa Clinic has been a body and soul healer for us. Our hearts warm up when we anticipate and experience a visit to Khalsa Healing Arts Center"
- A.A. & A. R.,Doylestown, PA
Initial Intake Consultation & Treatment
Initial Intake Consultation & Treatment
Initial Intake Consultation & Treatment
Free if parents are active clients
Khalsa Healing Login