Kundalini Yoga is a formalized style of yoga taught throughout the world which recognizes the infinite potential and vastness of our human presence. Kundalini kriyas and meditations access the hidden gems of our humanity and allow the many facets of our sacred nature to shine forth and be expressed in the world as compassion and kindness. Through these practices we heal, nurture and enhance all ten physical systems of the body, as well as enhance and expand the subtle etheric dimensions of our energetic sphere. Kundalini yoga recognizes one another as light beings with profound hearts of love and a sacred essence to be shared with the world.
Tuning-in with the Adi Mantra
Pranayam or warm-up
Kundalini yoga kriya
Relaxation
Meditation
The Blessing Song, May the Longtime Sunshine Upon You
Long Sat Naam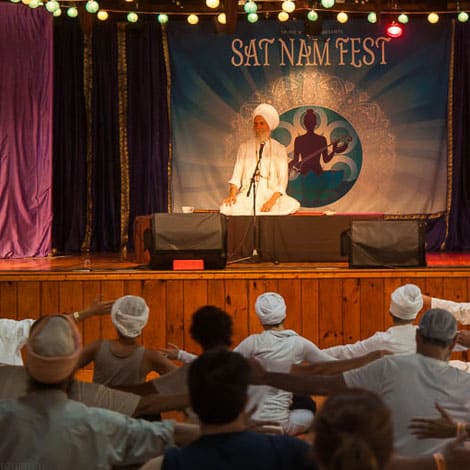 Kundalini yoga is performed by using kriyas which are complete sequences of asanas and meditations that work on a many aspects of our being to enhance one's overall physical well-being, clear subconscious patterning, cultivate emotional wholeness, and to expand one's consciousness.
They can be simple short sequences or they may involve vigorous, even strenuous exercises, and strong breath techniques such as Breath of Fire, which challenge and strengthen the nervous and endocrine systems and test the will of the practitioner beyond the limitations of their ego.
The typical class is 60-90 minutes: 5-10 minute warm-up, 30-45 minute kriya, 5-15 minute yoga nidra, 11-31 minutes of meditation.