Vegan Cooking Classes with Nirbhe Kaur
Cooking brought to a new level of expertise, fun, to a delicious end. Nirbhe Kaur shares her timeless recipes & love of vegan cooking in a way that all will return home inspired to embrace cooking in a new & creative way.
What is meant by conscious cooking? Primarily conscious cooking begins in your heart. It begins with an attitude of gratitude for the bounty of the earth and its incredible array of nutritious gifts. When you have a desire and love for creating good healthy food the end result is always delicious for the most important ingredient in all food prepared is love. Then knowledge and a conscious effort to combine and expand one's awareness of nutrients become a delightful nutritious meal.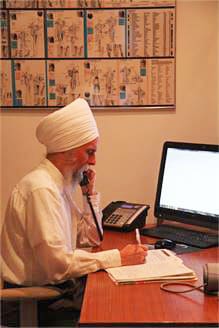 Having an awareness of the body's nutritional needs makes the art of food preparation preventive medicine. It is true "you are what you eat", so it stands to reason that if you eat healthy natural organic foods created through the balance and miracle of nature, your body which is also created through the balance and miracle of nature will be able to function in its most harmonious state. Healthy eating, thinking, breathing, as well as exercise practiced daily are all important ingredients to a healthy, vibrant and vital constitution. The conscious recognition of this creative energy begins to put you in tune with it, and once in harmony with this, you are in harmony with yourself and consequently your environment. When you begin to appreciate the exquisite symmetry of a carrot, the joyous color of an orange, the fragrance of an herb, you are beginning to see the true beauty of nature's gifts. These gifts are your tools, you are the artist, free to create whatever your imagination can conceive. The love, joy and exhilaration with which you prepare food is reciprocated by the food itself and conveyed to those you serve.