Nirbhe Kaur is a certified Massage Therapist, Minister and Yoga instructor since 1973. Nirbhe Kaur offers a few different styles of massage. Among them are Swedish, Deep Tissue, Neuro-muscular, Trager, Aromatherapy and Intuitive Touch. Healing through her compassionate heart she strives to reduce stress, dissipate muscle tension & increase circulation while bringing balance & harmony.
Nirbhe Kaur has been practicing the healing arts for over 40 years...exploring a broad spectrum of holistic therapies she brings a vast and deeply intuitive touch to her practice.
Her sessions are profoundly healing, sensitive, deeply relaxing to the muscles and blissful.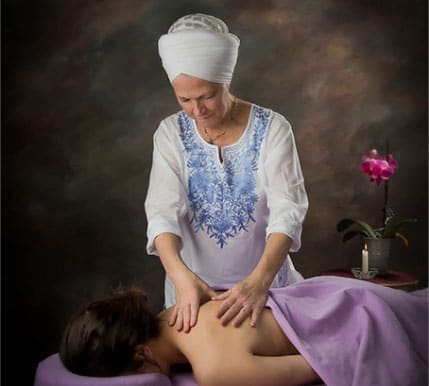 "Nirbhe Kaur's Life Nourishing Massage Therapy brings in a variety of massage techniques which include Swedish, Deep Tissue, Trager and Aroma therapy. Her sensitivity to her clients health needs is important to her."
"I feel blessed to be able to come to work each day to bring others greater health and peace into their day. Administering Life Nourishing Massage is by far one of my greatest blessings."
"With each massage one receives a greater sense of relaxation where healing can occur. Life's tensions somehow build up over time making a periodic massage a must in one's life. Schedule one monthly and see the difference when your body knows that you have that next massage appointment set in place. It's like planning a vacation. So much of the vacation experience is felt as you begin planning it. It does not all take place on the vacation. Same is true for the massage. Schedule the appointment and begin to experience a sigh of relief. Hope to see you soon."