Throughout his academic career and government service he continued to teach yoga to people from all walks of life.
In September of 1968, he left India for Canada to teach yoga at Toronto University, carrying a letter of recommendation from Sir James George, Canadian High Commissioner in New Delhi, who had been his student. After two months in Canada, he flew to Los Angeles for a weekend visit. Arriving in Los Angeles virtually unknown, Yogi Bhajan met a number of young hippies, the spiritual seekers of that era, and immediately recognized that the experience of higher consciousness they were attempting to find through drugs, could be achieved by practicing the Science of Kundalini Yoga, while simultaneously rebuilding their nervous systems.
Breaking the centuries old tradition of secrecy surrounding the empowering science of Kundalini Yoga, he began teaching it publicly. With the yogic sciences of yoga, meditation, yogic philosophy, and loving acceptance, he gave the soon to be called "Baby Boomers" an effective alternative to the prevalent drug culture. He called it the "3HO" (healthy, happy, holy) way of life.
From humble beginnings, teaching first at the East West Cultural Center and then in a student's furniture store in West Hollywood, "The Yogi" was like a magnet. Students flocked to his classes. Soon he was teaching at colleges and universities, including Claremont and UCLA, and accepting invitations to teach in other cities.
In July of 1969 the non-profit 3HO Foundation (Healthy, Happy, Holy Organization) was incorporated in California. 3HO's service to humanity is through Kundalini Yoga, meditation and the Science of Humanology which improves physical well being, as well as deepening spiritual awareness.
Under his guidance as Director of Spiritual Education, 3HO mushroomed worldwide, to 300 centers in 35 countries. In 1994 3HO became a member of the United Nations as an NGO (Non-Governmental-Organization) in Consultative Status (Roster) with the Economic and Social Council, representing women's issues, promoting human rights and providing education in alternative systems of medicine.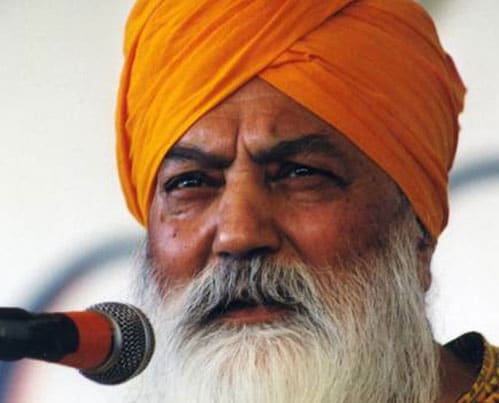 "Kundalini Yoga is not a religion. Religions come out of it. Kundalini Yoga is not a fad and it's not a cult. It's a practice of experience of a person's own excellence which is dormant and which is awakened."
Traveling extensively in the seventies and eighties, Yogi Bhajan crusaded tirelessly to educate, uplift, and enlighten everyone he met. His basic message was "It is your birthright to be healthy, happy, and holy".
Inspired and motivated by his words and adhering to the practices he taught, students created music, art, and poetry reflecting the universal wisdom he shared. Over 200 books have been written based on his teachings, as well as a wealth of CD's, videos, paintings, and sculpture. He himself wrote over 30 books including The Yogi Bhajan Library of Teachings , Furmaan Khalsa, Masters Touch, and Mind and Its 81 Facets.
Becoming the Mahan Tantric (only living Master of White Tantric Yoga) in 1971, he conducted workshops in cities around the world. In 1987 he transferred these workshops to videotape, calling them "Renew to be New" Courses, which will continue to be held worldwide.